Selling Your Boat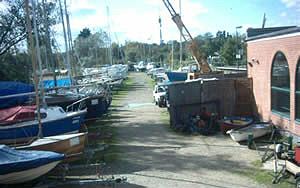 We offer a comprehensive brokerage service.
Our terms include :–
FREE storage and display in our riverside yards for 6 months and then by negotiation.
No sale – NO fee.
FREE advertising on our website, viewed by over 3,500 unique visitors per month.
We have found over the years that a realistic NET figure, mutually agreed, is the most simple and effective method of realising an efficient result, This allows us to "haggle" and to "throw in" goods / services if required, to achieve the sale without having to continually refer back to our clients. Also, our clients know exactly what they will receive from the sale without any unexpected deductions or charges.
We have been successfully selling boats here for OVER 40 years.
We have a unique and very well known location in the heart of this picturesque boating centre. Our clients come back time and again, both to buy and sell their boats through us. Perhaps we can be of service to YOU?
Sell Your Boat – Form
In order for Andy Seedhouse to sell your boat, engine, trailer or equipment for you, just follow these three simple steps:
Fill in the form below giving all the relevant information (for example, all sections if selling a boat, or just the engine section if selling an engine) OR print out this form to fill in and post.
Take some photos of your craft, engine, trailer or equipment.
Place the photos, as well as either the completed printed form or your name and address and Form Record Number (which you will receive once you've submitted the online form, below) and post these off to:
ANDY SEEDHOUSE BOAT SALES,
2 QUAYSIDE,
WOODBRIDGE,
SUFFOLK,
IP12 1BH
---
---
PLEASE NOTE: We act as brokers / agents only and whilst every care is taken in the preparation of these details, their accuracy is not guaranteed.
These particulars are intended only as a guide and do not constitute a term of any contract. Prospective purchasers are advised, at their own expense, to have the above craft engines and equipment inspected by a qualified Marine Surveyor.
* An inclusive NET figure is easier and fairer for both parties and allows for "haggling" etc. Please enter price in whole pounds only.
Commission guide:
Up to £500 . . . . . . . 25% inc. VAT.
£501 to £1000 . . . . . . . 20% + VAT.
£1001 to £3000 . . . . . . . 15% + VAT.
£3001 to £5000 . . . . . . . 10% + VAT.
above £5000 . . . . . 8% or by negotiation.